copyright John Clement Photography
Drug addiction is a growing epidemic across the country in all communities, including Tri-Cities.
OUR MISSION


Partner within WA to advocate for recovery and treatment opportunities; educate to destigmatize the disease of addiction and reduce barriers to recovery for people suffering from Substance Use Disorder.
OUR VISION


Make Recovery the New Epidemic!
RECOVERY CENTER PURCHASED!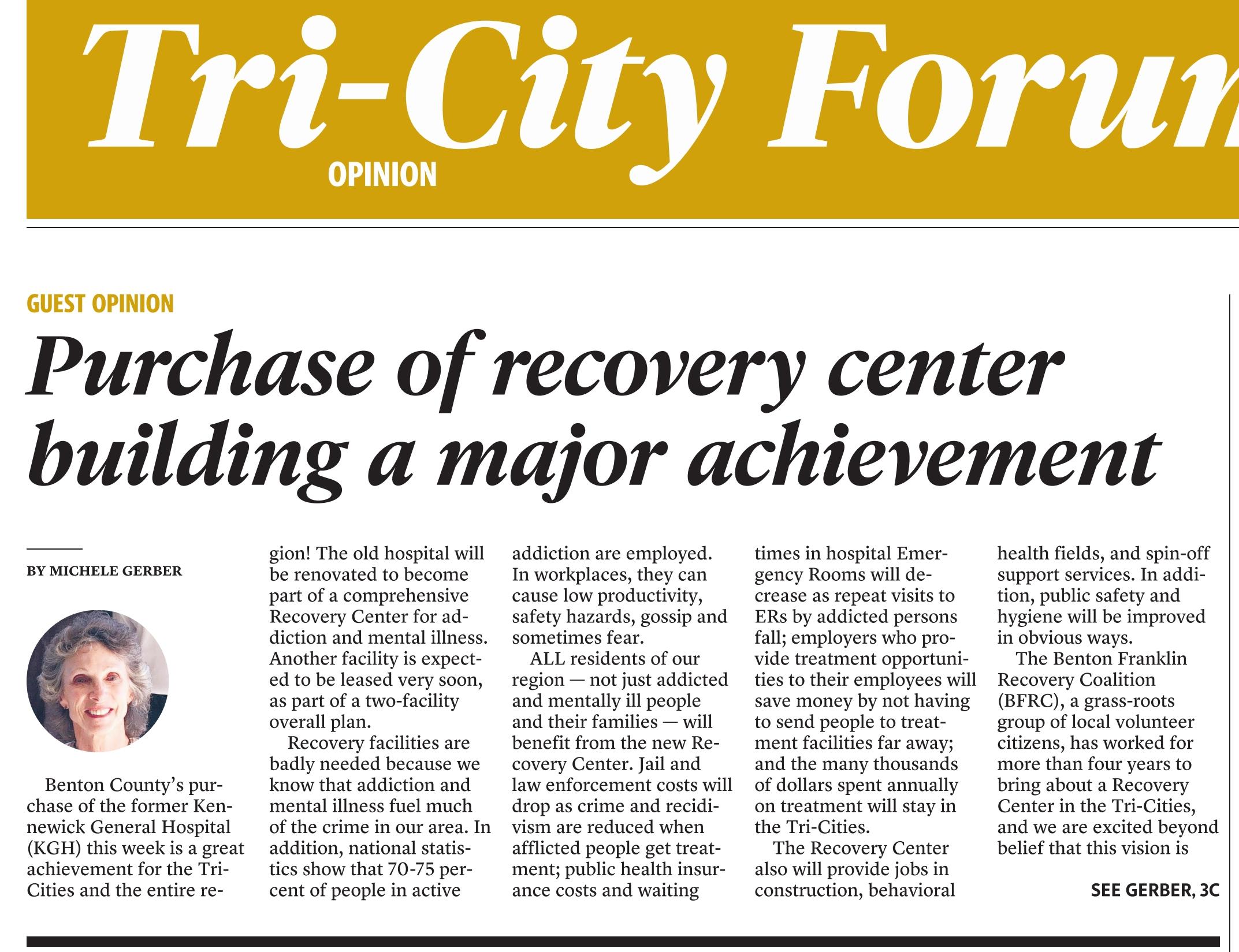 Funding for "TriCitians Talk About Recovery" was provided by the Three Rivers Community Foundation and the Barclay-Geil Seed Grants program
10-POINT PLAN
How You Can Support Recovery and Fight the Addiction Epidemic
1. Start with your own medicine cabinet.
Dispose of unused medications at police and pharmacy drop-off boxes. Lock medications in safes or lock-boxes.
2. Talk with your own doctor.
Ask for non-addictive medications, refuse opiate medications or accept the smallest amount possible for the shortest time period, and tell your doctor why.
3. Educate yourself about recovery from the disease of addiction.
Information is readily available (websites, books, articles) and you can understand it. Don't judge people who have this disease or their family members. Causes of addiction are multi-faceted. Addiction can affect anyone. Addiction is not shameful.
4. Learn to use Naloxone and carry it if you have a loved one with an opioid addiction. Naloxone saves lives.
5. Partner with law enforcement.
Support vigorous prosecution of major drug dealers and diversion programs for addicted people who commit minor offenses and agree to treatment. If you know of drug dealing activity, notify law enforcement. It could save a life.
6. Speak up to politicians.
Demand funding for detox and inpatient facilities, recovery programs, prescribing limits and mandatory reporting of all overdoses.
7. Speak up to local hospitals.
Insist that hospitals offer drug and alcohol clinics and that overdose patients be admitted for at least a 72-hour stabilization period, rather than discharged as soon as they are conscious.
8. For employers.
Support recovery through work re-entry programs. Don't sponsor company events centered around alcohol (turn "free beer night" into "free beverage night.")
9. For school personnel.
Educate our youth. Invite people in long-term recovery to speak to students about addiction. A personal story can have a powerful and lasting impact.
10. Support a community effort to establish a Tri-Cities Recovery Center, similar to the Tri-Cities Cancer Center.
Our community deserves a place for individuals who are suffering from the disease of addiction and are seeking short-term medical and social interventions to enter recovery.